Essex & Drake Consulting Services
From testing capital campaign readiness to interim development staffing support - our experienced consultants are ready to help.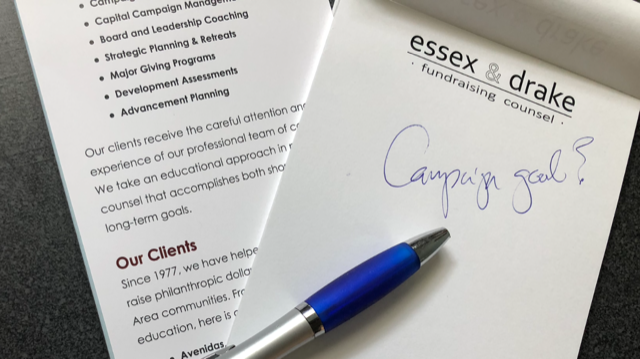 Campaign Feasibility & Planning Studies
Our specialty is helping organizations assess their internal and external readiness before launching a campaign. To determine the level of success of a potential major capital campaign, we seek factual information through confidential personal interviews about leadership potential, available financial support, community image, and volunteer and board strength. The interview process is followed by a comprehensive report and campaign action plan.
Institutional Fundraising Support & Prospect Research
Securing funding from foundations and corporations is an important part of a diversified fundraising program. We assist organizations with potential funder research to assess the opportunities for capacity building and program support. We also help by composing framing narratives to respond to specific funding opportunities.
Board & Executive Coaching
We recognize that board members are being asked to fundraise and yet we know that they aren't trained fundraising professionals. We meet board members at their own level of expertise, and through a coaching process, help them achieve the results they envision. We also work with executive and development staff to develop their leadership and fundraising skills. We offer group trainings and individual coaching.
Capital Campaigns
We understand that a Capital Campaign is a major undertaking for an organization. Our expert team members assist our clients with campaign direction including: volunteer leadership recruitment, prospect identification, donor research, solicitation strategies, volunteer management, campaign budgeting, database gift tracking, collateral materials, solicitation training, donor recognition and stewardship.
Individual Giving Programs
We help clients establish and improve their individual philanthropy program as part of their fundraising efforts. Using a relationship-based approach, we offer direction to identify, research, and cultivate prospects, as well as plan successful solicitation strategies. Our team members specialize in coaching staff and volunteers in building genuine relationships with donors and enabling philanthropy.
Presentations & Training
Essex & Drake has a long history of providing insightful trainings and engaging presentations. From inspiring board room presentations to community educational events, our expert team members are adept in teaching and offer a wide array of formats and content including Campaign Fundraising Training for Board, Staff, and Volunteer Committees.
Interim Development Staffing
We realize that sometimes, an organization needs a seasoned team member who can provide capacity and expertise to cover critical development staffing during transitions. For positions from Grant Writer to Development Director, contracting for interim staffing  with Essex & Drake leadership provides access to resources and expert counsel.
Development Assessments & Advancement Planning
When conducting development audits, we study past fundraising efforts, board participation, special events, foundation and corporate proposals, volunteer management, donor database management, and the role of staff. These elements are evaluated in relation to the organization's fundraising goals and the organization's long-term plan.